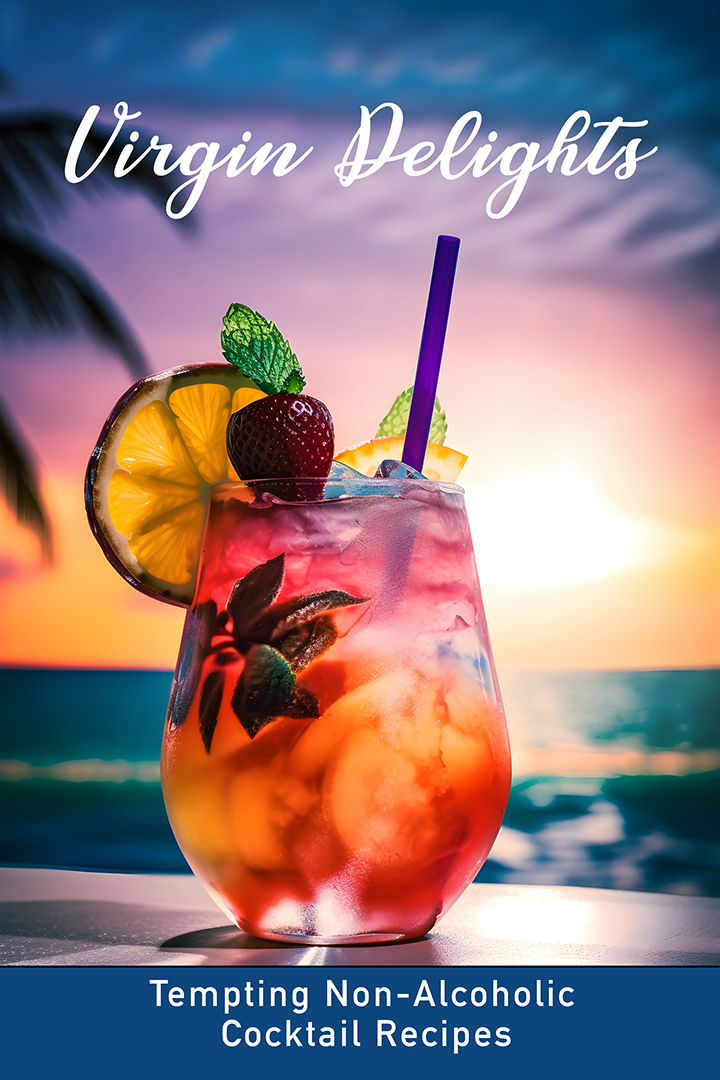 Get on Amazon
Enjoy Virgin, Non-Alcoholic Cocktail Recipes! Mocktails!
Introducing "Virgin Delights: Tempting Non-Alcoholic Cocktail Recipes" – a delightful book that brings the excitement of classic cocktails into the world of non-alcoholic beverages. Whether you're looking to embrace a healthier lifestyle, are a designated driver, or simply enjoy the vibrant flavors of mixed drinks without the alcohol, this book is your go-to guide. With over 50 expertly crafted mocktail recipes, you'll never miss the buzz.
Unleash your creativity with this collection of refreshing mocktails that pay homage to beloved cocktail classics. From the zesty and invigorating Virgin Mojito to the sophisticated and elegant non-alcoholic French 75, each recipe has been carefully curated to replicate the essence of its alcoholic counterpart. With a wide range of flavors, from tangy and tropical to rich and indulgent, these mocktails are perfect for any occasion, whether it's a brunch gathering, a cozy night in, or a festive celebration.
"Virgin Delights" takes your taste buds on an exciting journey with its diverse selection of mocktail recipes. Savor the citrusy burst of an alcohol-free Margarita, indulge in the sweet and creamy delight of a Piña Colada sans the rum, or sip on a tantalizing Hurricane without the rum. With detailed instructions and easy-to-find ingredients, this book ensures that crafting your favorite mocktails at home has never been easier.
"Virgin Delights" is a must-have companion for those who want to enjoy the art of mixology without the consequences of alcohol. Impress your guests with visually stunning creations like the dazzling Blue Lagoon or the fiery Alcohol-Free Bloody Mary. This book is a treat for the eyes and the palate, inspiring you to take mocktail mixing to new heights.
Dive into the world of " Virgin Delights" and discover the next level of non-alcoholic beverages. Experiment with modern twists on classic recipes, such as a spicy Virgin Jalapeño Margarita or a smoky Alcohol-Free Old Fashioned. Whether you're a seasoned mixologist or a novice seeking new flavors, this book provides an exciting array of options to satisfy even the most discerning taste buds. Let your imagination run wild and create unforgettable mocktail experiences with this innovative collection.
As an Amazon Associate I earn from qualifying purchases.
Categories: Recipe Books
Sorry, comments are closed for this item.