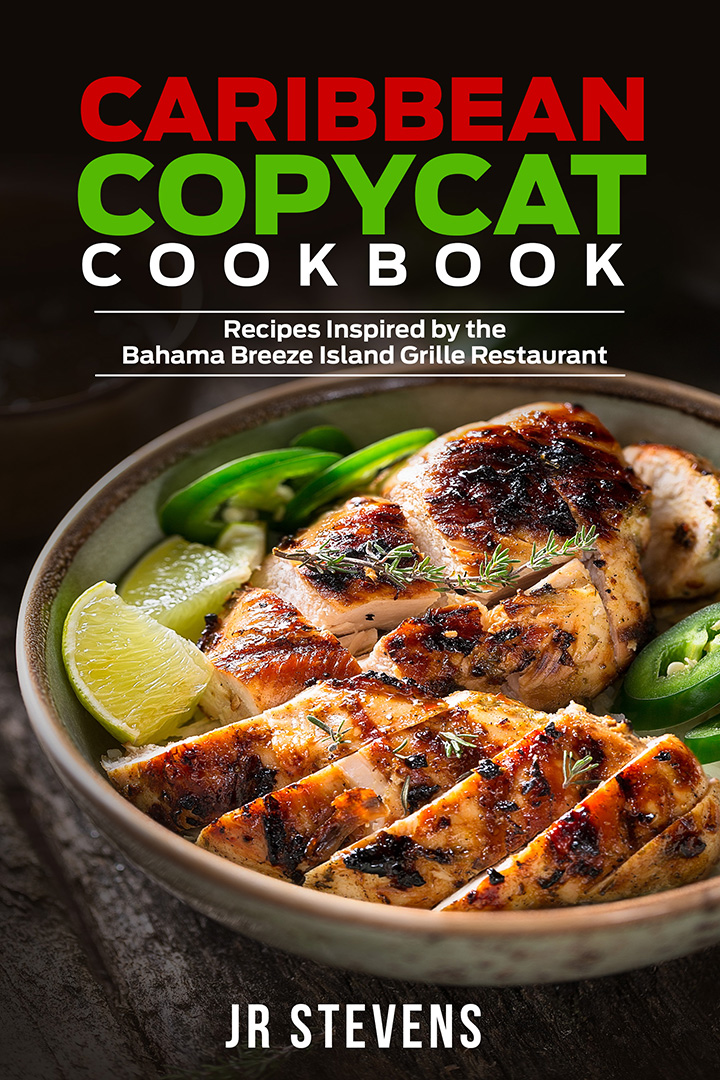 Bahama Breeze Island Grille is an American restaurant chain with locations across the country. The restaurant specializes in Caribbean-inspired seafood, chicken, steaks, and tropical drinks. In this copycat cookbook, discover more than 50 recipes you can replicate at home including their legendary island cocktails, amazing appetizers, flavorful entrees and decadent desserts.
Table of Contents: Caribbean Copycat Cookbook: Bahama Breeze
Legendary Island Cocktails
Rumrunner Islamorada
Painkiller, British Virgin Islands
Goombay Smash, Bahamas
Dark 'N Stormy, Bermuda
Killer Bee, Nevis
Ultimate Pineapple
Frozen Bahamarita
Ultimate Pina Colada
Dreamin' Fo Blue Seas
Coconut Mojito
Mango Jalapeno Mojito
Mojito Cubano
One Love
Bahama Mama
Appetizers
Beef Empanadas
Tostones With Chicken
Spinach Dip
Creole Baked Goat Cheese
Buttermilk Chicken Jibaritos
Chorizo Meatballs
Lobster & Shrimp Quesadilla
Coconut Shrimp
Firecracker Shrimp
Skillet Simmered Jerk Shrimp
Crab & Avocado Stack
Jamaican Chicken Wings With Jerk Bbq Sauce
Conch Fritters With Citrus-Mustard Sauce
Soups & Salad
Bahamian Seafood Chowder
Chicken Tortilla Soup
Cuban Black Bean Soup
Chipotle Chicken Taco Salad
Entrees
Ropa Vieja Tostones
Braised Oxtails
Steak Oscar
Skirt Steak Yucatan
Bahama Baby Back Ribs
Seafood Paella
Caribbean-Style Lobster Mac & Cheese
Calypso Shrimp Linguine
Shrimp & Mahi With Lemongrass Sauce
Rich & Flavorful Salmon
Jerk Chicken Pasta
Jamaican Jerk Chicken
Buttermilk-Fried Chicken Breast
Breeze Wood-Grilled Chicken Breast
Coconut Shrimp Tacos
Roasted Cuban Bread
Desserts
Rebecca's Key Lime Pie
Rum Cake
Bananas Supreme With Butterscotch
Piña Colada Bread Pudding
As an Amazon Associate I earn from qualifying purchases.
Categories: Cookbooks
Sorry, comments are closed for this item.