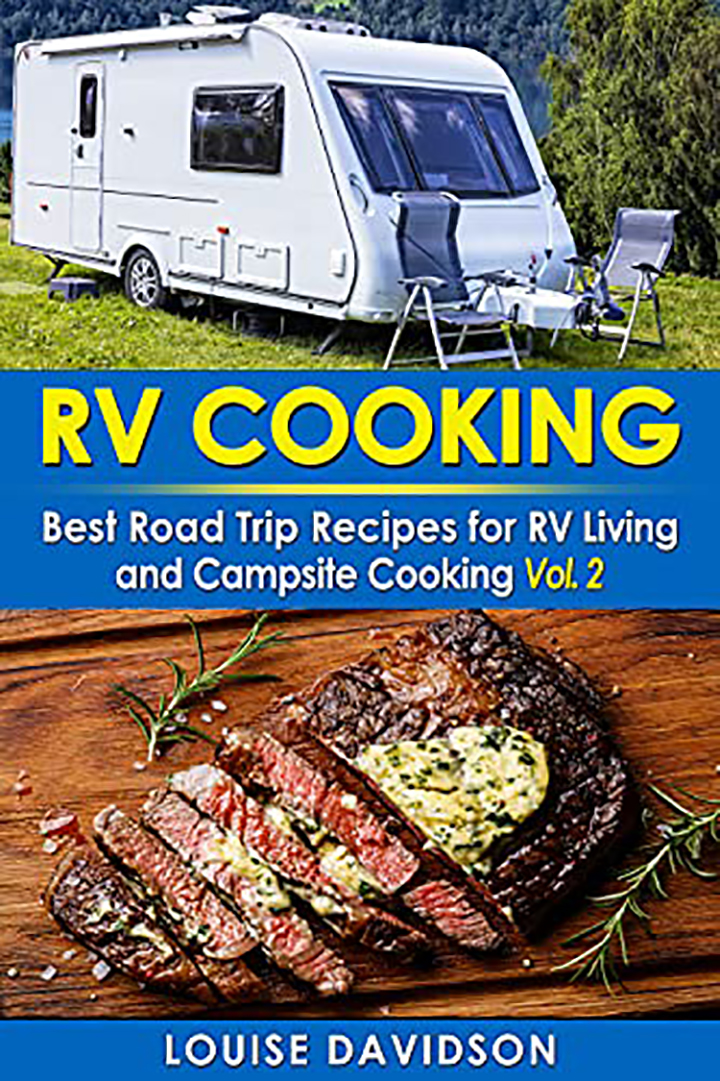 Whether you are looking for recipes for your next RV vacation or are just looking for healthy and nutritious food to make while at the campsite, this second collection of camper recipes are not only are easy to make while on the road but also brings in the flavors big time!
If this is one of your first RV experience, and you feel a bit overwhelmed by the thought of having to cook in a small kitchen with limited equipment, you'll be surprised at how easy, with a bit of organization, and great ingredients, you can prepare meals that even the pickiest eaters will love and ask for seconds. Some will even ask for your "secret" recipes.RVing doesn't mean leaving behind good food and good cooking. It is exactly the opposite. The recipes included are creative, deliciously healthy, and satisfying from breakfast to desserts!
Don't think for a minute that going camping or RVing means cooking tasteless food made from highly processed ingredients. This is the second collection of RV cooking recipes from Louise Davidson. It uses fresh ingredients that are wholesome and nutritious and packed with flavors to satisfy the most voracious appetites. Cooking should be just as much of an adventure as the trip!
Inside, you'll find:
The essentials of RV cooking and the equipment and utensils needed for RV living
Useful tips on making your food taste even better while on the road and at the campsite
A word on food safety
Useful information on different cooking methods for RVs and campsite cooking including foil packets and Dutch oven cooking
Over 75 recipes for easy RV meals from breakfast to dessert
This illustrated cookbook features recipes such as:
BREAKFAST
Omelet in A Bag
Breakfast Burritos
Berry Pancakes
Dutch-Oven French Toast
APPETIZERS, SNACKS, AND SMALL BITES
Rainbow Fruit Skewers
Cream Cheese Fruit Dip with Strawberries and Apples
Grilled Asparagus and Prosciutto
Nachos in Foil for Campers
CHICKEN AND TURKEY
Campsite Chicken Wings
Beer Can Chicken
Turkey Burgers
Dutch Oven Chicken Chili
BEEF, PORK, AND LAMB
Dutch Oven Beef Chili
Camper's Spaghetti with Meatballs
Steak with Pepper and Onions
Beef Tacos with Pineapple Salsa
Grilled Pork with Blueberries and Melon Salsa
Smoked Pulled Pork Sandwich with Coleslaw
Campfire Pork Chops
Greek-Style Lamb Cutlets
FISH AND SEAFOOD
Seared Scallops with Pineapple Salsa
Shrimp Salad
Fried White Fish with Lime Salt
Easy Spicy Fish Tacos
SIDES
Stuffed Mushrooms
Grilled Corn on the Cob
Campers Mac and Cheese
Cabbage Sauerkraut
DESSERTS
Cast Iron Dutch Baby Chocolate Chip Cookie
Jazzed-Up S'mores
Fruit Kebabs
Cast Iron Dump Cake Recipe
This collection includes recipes you can prepare with the most basic RV kitchen – or "galley", in RV lingo. Most of the recipes have been created to encourage more outdoor-type cooking.
Recipes come with a detailed list of ingredients, images, cooking and preparation times, number of servings, easy-to-follow step-by-step instructions, and nutritional information per serving.
Read on your favorite devices such as Kindle, iPhone, iPad, Android cellular phone, tablet, laptop, or computer with Amazon's free reading Kindle App.
As an Amazon Associate I earn from qualifying purchases.
Categories: Cookbooks
Sorry, comments are closed for this item.