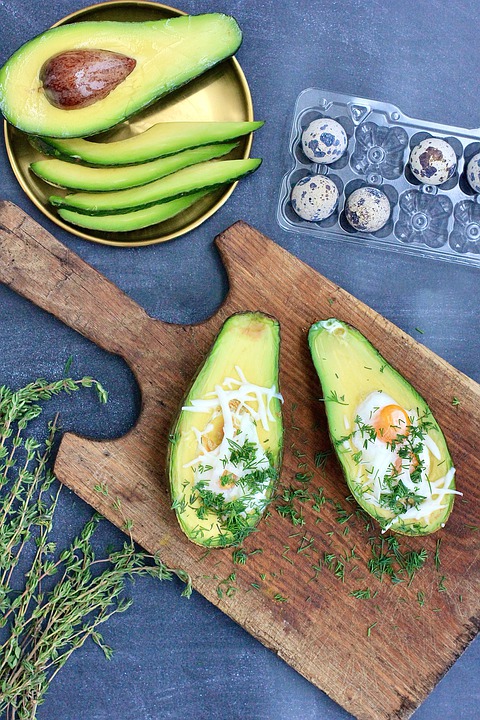 Are you looking for a perfect and healthy breakfast? If so, we have an avocado recipe for you. That is the so-called "avocado egg boats recipe." What is it? It is one of the best options to fuel your body and your brain in the morning. An avocado egg recipe breakfast is made of hollowed avocado halves (boats) stuffed with eggs and several toppings such as bacon, cheese, and bell peppers. 
The main ingredients of this recipe are avocados and eggs, namely a balanced breakfast rich in vitamins, proteins, and fats. This healthy food combination is pivotal to help you wake up in the morning. If you season this recipe with bacon and cheese, surely you'll prepare a breakfast rich in calories. 
However, you can lower these calories with a solution we feel to recommend: a keto recipe. That is always a recipe made of avocados and eggs seasoned with MCT oil. The latter is a supplement used to increase ketones in our bodies. Ketones are helpful to burn down fats and lose weight. 
You can add a few drops of MCT oil to the avocado recipe. Beware: you can try the keto recipe with avocado only if you don't have health problems because a wrong dosage of MCT oil can have severe side effects.
Start finding helpful information about the best MCT oil before using this supplement. Meanwhile, prepare a perfect and delicious avocado recipe with the instructions you'll read in the following paragraph.
Avocado Egg Boats Ingredients 
To prepare the avocado recipe with eggs for four persons, you need to have:
2 Avocados

4 eggs

Salt 

Oil

Pepper
To prepare the toppings, you need to have:
2 strips of diced bacon

Fresh herbs, such as chives, to garnish the dish.
Keep reading to enjoy the recipe!
Avocado Boats Recipe
Cut the avocados in halves, take the seeds off and leave a brim around to avoid the ingredients spilling out during the preparation. Place the halves on a baking dish. Scoop the pulp from the halves with a tablespoon and shape a large hole that has to contain the egg in the avocado recipe. Crack the eggs, put yolk and albumen in the holes, and season with salt and pepper. 
Preheat oven to 350 degrees and cook until the eggs don't get firm. Take care to coat the baking dish with a paper sheet to avoid the avocado boats burn and stick on the bottom. Bake for 20, 25 minutes. In the meanwhile, cook bacon in a pan until it becomes crispy. 
This stage takes less than 10 minutes. Transfer it to a plate and chop. Pull out the boats from the oven and season them with bacon and chives. You can also add bell peppers, spinach, or sprinkles of cheese to your avocado egg boats. Bell peppers and spinach must be chopped and lightly fried or boiled before being added to the avocado recipe.
As an Amazon Associate I earn from qualifying purchases.
Categories: Recipes
Sorry, comments are closed for this item.